About Our School
Overview
KDT was founded by Rita Mustaphi, one of Kathak's leading performers and choreographers. Since founding KDT over three decades ago, she has consistently been at the forefront of Kathak's cultural preservation, as well as its development as an art form. She is a disciple of the late Kathak maestro Pandit Birju Maharaj, who frequently led KDT master classes and workshops over the years. Under Rita's guidance as Master Teacher, our School offers world-class Kathak education for dancers of all ages and abilities, with levels ranging from introductory to advanced. Our School gives students a rare opportunity to learn not just from accomplished dancers, but from masters of the craft.
Kathak is so much more than a dance style. It promotes artistic expression and creativity; increases flexibility, agility, and grace; establishes strong mind-body connections and coordination; and provides important cultural context and knowledge. It is also adaptable to any skill level; all dancers over the age of 6 are welcome!
From children's beginner training programs to adult workshops, Katha Dance Theatre remains true to its mission to provide access to high-quality Kathak dance education for students of all ages and abilities. Kathak is an art form that is not limited to any age barrier.
In class, we emphasize strong classical Kathak technique, graceful movements, intricate footwork, pirouettes and storytelling to radiate energy and joy. Our beautiful St. Louis Park studio offers a warm and welcoming environment to all KDT students.
Our Instructors & Curriculum
All of KDT's educational programs are grounded in the teachings of Pandit Birju Maharaj, the late guru of master teacher Rita Mustaphi. Our rigorous curriculum encourages self-expression and creativity in the classroom while providing high-quality, authentic Kathak education of the Lucknow tradition.
New dancers are introduced to the fundamentals of classical Kathak dance with a focus on its technique, terminology, and execution of dance syllables along with elements of storytelling. Returning students build upon their established technique and skill level as they advance their ability in the classroom.
Our challenging curriculum is taught by faculty members with decades of Kathak experience drawn from KDT's Company. In this and many other ways, the School benefits from its close relationship with the Company. In fact, the School is a fundamental part of the institution—the Company's dancers were all trained at KDT's School themselves. Read more about our faculty below.
Discipline. Grace. Perseverance.
At the start of their journey with KDT, children, youth and adults ages 6+ are placed in one of ten levels according to age, experience, and ability. Kathak classes at the School of Katha Dance Theatre follow a progressively more rigorous path from Level 1 onward.
Classes follow a structured sequence of training stages designed to increase technical skills, stamina, and artistry in accordance with students' age and physical development. We start with the joy of moving to music, and support that with a foundation in classical technique and instruction in basic Kathak terminology. The program, over the course of several levels, incorporates Kathak technique in various rhythm cycles, expression through facial expression & hand gestures, storytelling and Kathak repertoire. As students master each level and progress to the next, classes become increasingly challenging, as we prepare students to join KDT's professional Company.
KDT welcomes dancers with prior experience of Kathak dance to join after an audition process to determine their proper class placement.
Tuition Rates:


Student Progression
Students progress from 1A to 2A, then from 2A to 2B, and so on. Advancement is slow, as demonstrated in the chart below.
*Indicates that students may spend more than one year at this level.
Intermediate-level students demonstrating commitment and skill may be invited to become an apprentice with the Katha Dance Theatre Company.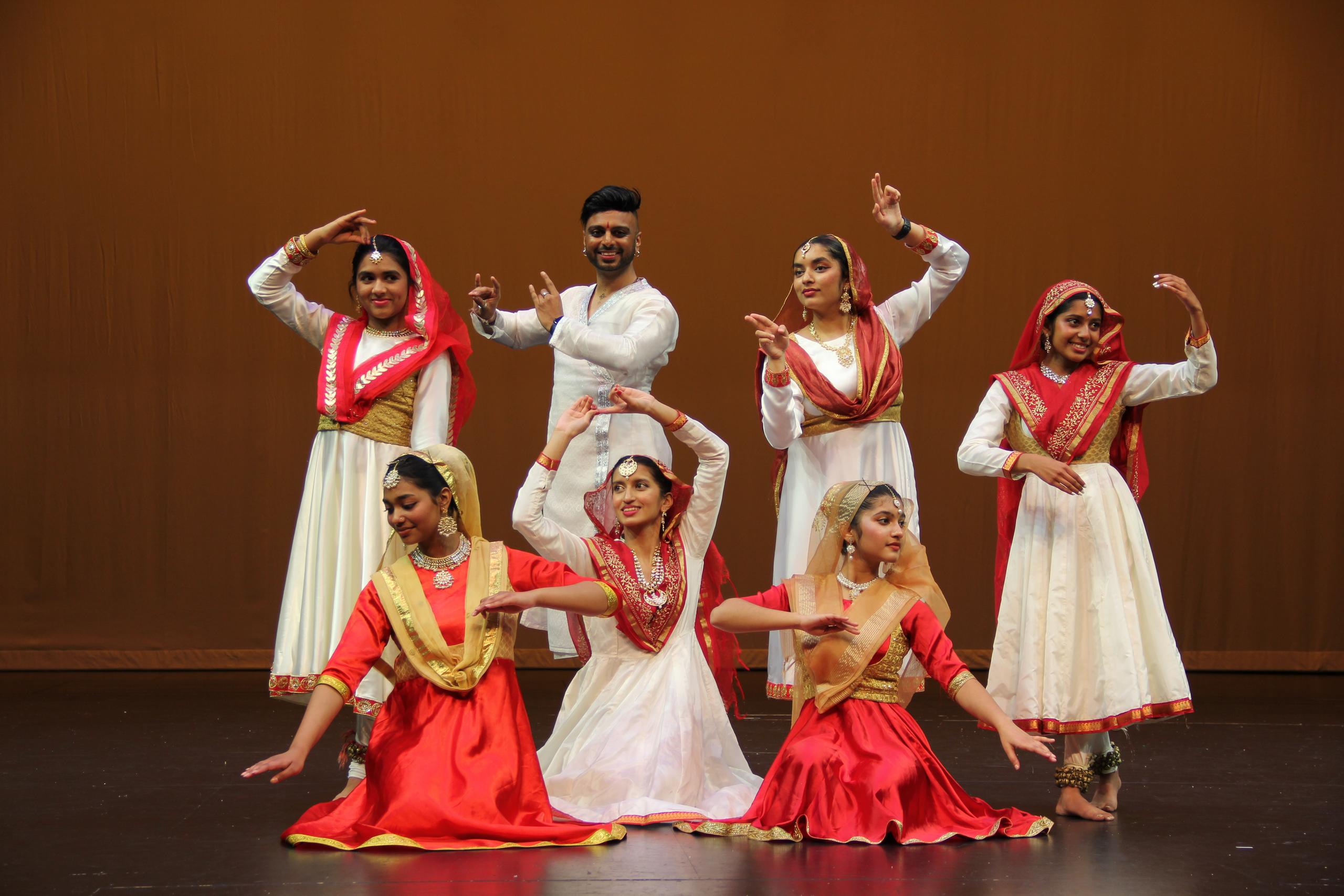 Sadhana
Sadhana (a Sanskrit word translated as "methodical discipline to attain desired knowledge") Is Our Annual Student Showcase
Join us for Sadhana, our annual school showcase, as we celebrate a year's worth of hard work by our dedicated students!
Children, Youth and Adult Beginner Classes
| | | |
| --- | --- | --- |
| MAY 21, 2023 | 10:00 AM – 12:00 PM | HOPKINS HIGH SCHOOL |
Photo Credit: Anjana Nair
---
Youth and Adult Advanced Beginners, Intermediate, and Intern Classes
| | | |
| --- | --- | --- |
| May 21, 2023 | 2:00 PM – 5:00 PM | HOPKINS HIGH SCHOOL |
Photo Credit: Anjana Nair
Messages from Our School Community
"Thank you for believing in our children and giving them the gift of Kathak dance and self-expression. I have seen firsthand how Kathak has shaped [my daughter] and some of her experiences. Thank you so much."
Current Parent
"My journey with KDT has been rather short but filled with learning, laughter and love. I instantly felt connected and acquired a sense of belonging as soon as I joined KDT, and I can't be thankful enough for that."
Former Student
"One of the things I love about Kathak and dancing with Katha Dance Theatre is that it has a great community of dancers and teachers, and it connects me to my culture."
Former Student
"Kathak classes are helping me be energetic and shake off my inertia––I am very motivated to learn something new every week. I am so glad to be learning from KDT and it has been a fulfilling journey so far!"
Current Student