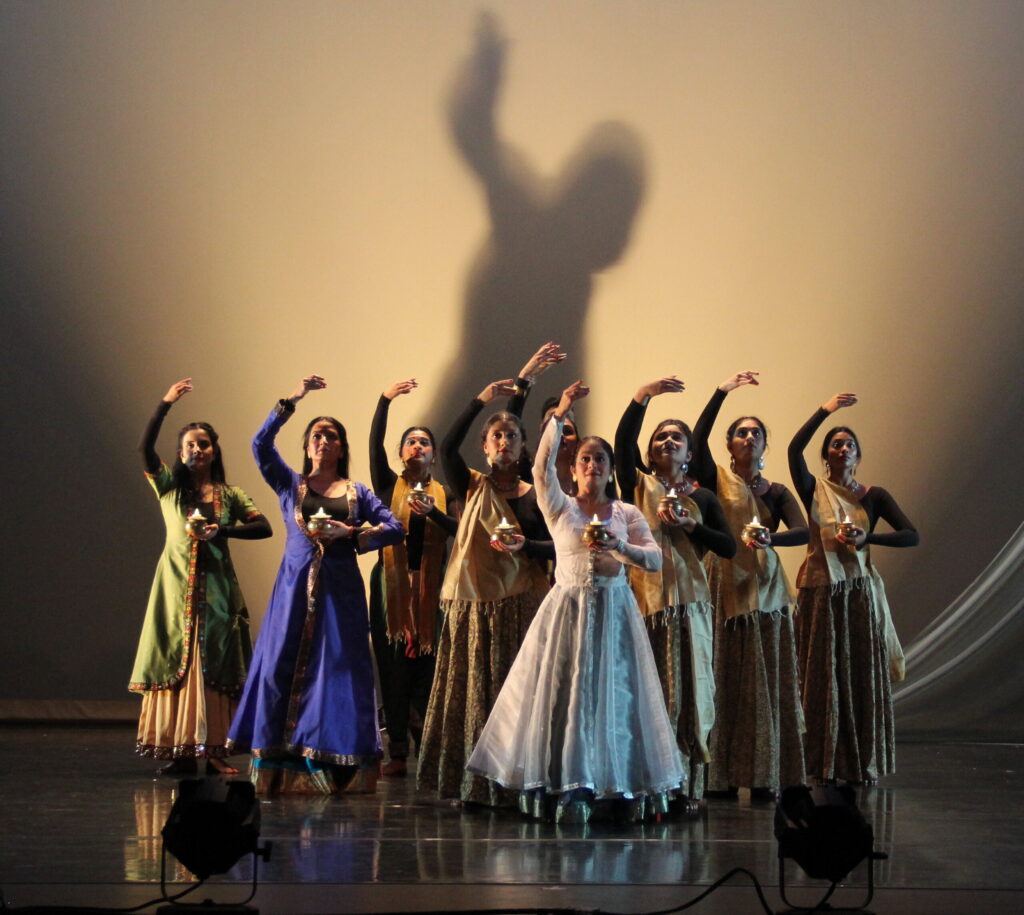 Give to the Max Day: November 16, 2023
Give to the Max Day is this Thursday, November 16! We ask that you consider helping to sustain our mission and ensure Kathak's future in Minnesota with a tax-deductible donation. Early giving has already begun at GiveMN.org.
Our mission is to inspire, captivate, and educate audiences about the beautiful Kathak dance tradition while expanding its artistic boundaries, making it more inclusive and accessible to all. Our recent appearance at The Cowles Center's 2023 Fall Forward Festival exemplified this mission twofold: introducing Kathak to new audiences and broadening its artistic margins to include a social justice lens.
This is important work we could not do without your continued support, especially as we look toward an exciting world premiere performance (Ganga: The Myth and Reality) that will combine audio-visual and in-person elements to create a one-of-a-kind production. But why should you give today?
With the future of our studio in doubt, we need your support to ensure we can continue providing our crucial educational programming. Our dance school is just as important as our onstage work, as it fosters a community of Kathak's future artistic leaders.
If we meet our fundraising goal of $2,000, that amount will be matched by an anonymous donor.
Here's what your gift can do:
• $1,000 will help us with the costs incurred by renovating, moving to and leasing a new studio space that best serves our entire dance community
• $750 will help strengthen our capacity to present touring performances locally and nationally, bringing the beauty of pure Kathak to communities nationwide
• $500 will support our ongoing goal to provide affordable and/or free performance options for our audiences, increasing our accessibility
• $250 will help strengthen our school, whether that's through offering scholarships to students in need, supporting our teachers and staff's ability to do their work, or upgrading our technological capabilities
• $100 will help advance our community outreach programming, assuring that all who wish to participate in our work have the opportunity to do so
You could also consider starting a recurring monthly gift to show your long-term support of our work.
Your donation will be publicly recognized on our website and is also tax deductible, as Katha Dance Theatre is a registered 501(c)(3) non-profit. Our federal tax ID is 36-3557119. We ask that you check with your employer before you give to see if they offer a gift-matching program.
As always, all of us at Katha Dance Theatre are so grateful for your continued generosity. Your support means the world to us!