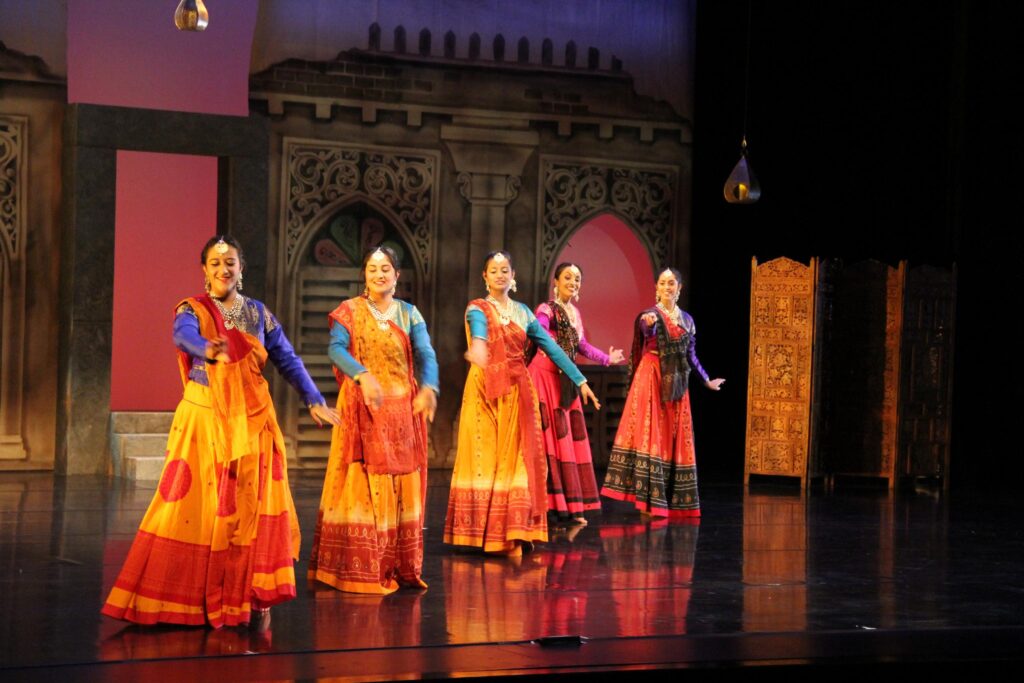 The Hungry Stones
Photo Credit: Anjana Nair
The Hungry Stones is based on a short story "Kshudhita Pashan" (1895), by Nobel Laureate Rabindranath Tagore. Set in a fantastical version of colonial India, the story paints an ecstatic portrait of passion where ancient stones come alive as witnesses to history. Its themes include the danger of greed, the power of regret and the importance of protecting the natural world. This production originally debuted in 1996, but was re-choreographed in 2018 for a performance at the Cowles Center for the Performing Arts November 16 – 18.
Artistic Director's Note
Each year as I start to write this Artistic Director's note, I am more and more swept away by the power of our community: the cast, the crew, the production staff and our volunteers that have worked tirelessly to bring this story to life for you amidst laughter, excitement, and the pure joy of working together. I am honored to be a part of this process! I am also thrilled at the opportunity to re-choreograph, direct and dance again for a new version of The Hungry Stones, which originally premiered in 1994. Using Kathak, a traditional dance technique native to North India, The Hungry Stones reflects on universal themes about how stones—and landscape, in general—act as witnesses to history. If you are new to our audience, we welcome you to KDT and invite you to join our family every year! Behind the scenes, the creators of The Hungry Stones have all put their unique stamp upon this production. My appreciation is boundless for the expertise they all have offered to KDT. The well-trained KDT dancers add a great deal to our ensemble with their professionalism and talent. I hope that this production transports you to another world!
Credits
Artistic Personnel
Choreography & Direction: Rita Mustaphi
Story, Lyrics, & Composition: Rabindranath Tagore
Playwright: Rahoul Ghosh
Poetry Translation: Smarajit Mitra
Poetry Translation: Sayan Ghosh
Classical Music Composition: Rajeeb Chakraborty
The Ensemble (Kolkata, India)
Pandit Ramesh Mishra
Rajeev Chakraborty
Sontosh Kumar
Kousic Sen
Indrani Sen
Indranil Sen
Debasis Sarkar
Siza Roy
Reena Shrivastava
Subhas Mondal
Kakan Ghosal
Bonnie Nag
Sangeeta Banerjee
Sutapa Chatterjee
Gautam Nag
Kishore Chatterjee
Adhir Chatterjee
Jayanta Chatterjee
Rana Chatterjee
Biplav Bhattacharya
Samaresh Bhattacharya
Cast
Narrator/Tax Collector: Anurag Sharma
Gypsy Woman/Courtesan: Rita Mustaphi
Meher Ali – The Mad Man/The Eunuch: Derek Phillips
Persian Courtesan: Mukta Sathe
The Courtesans/Stones: Sarika Haris
The Courtesans/Stones: Monica Singh
The Courtesans/Stones: Nivedita Sahni
The Courtesans/Stones: Madhulika Srikanth
The Courtesans/Stones: Anisha Sharma
The Courtesans/Stones: Aanchal Sahni
The Courtesans/Stones: Saniya Shah
The Courtesans/Stones: Rimika Dhara
Crew
Voiceovers: Dipankar Mukherjee
Voiceovers: Rita Mustaphi
Music Editing: Kalyan Mustaphi
Rehearsal Master: Rupa Nair
Costume Design (New Delhi, India): Sandhya Raman
Set Design (Kolkata, India): Anup Giri
Light Design: Mike Grogan
Stage Manager: Rebecca Tanner
ASL Interpreter (Sunday show): Alan Farnham
Acknowledgement
This activity is made possible by the voters of Minnesota through grants from the Minnesota State Arts Board and the Metropolitan Regional Arts Council; thanks to a legislative appropriation from the arts and cultural heritage fund; by the Mcknight Foundation; by Target; and by the generosity of Katha Dance Theatre's private donors.