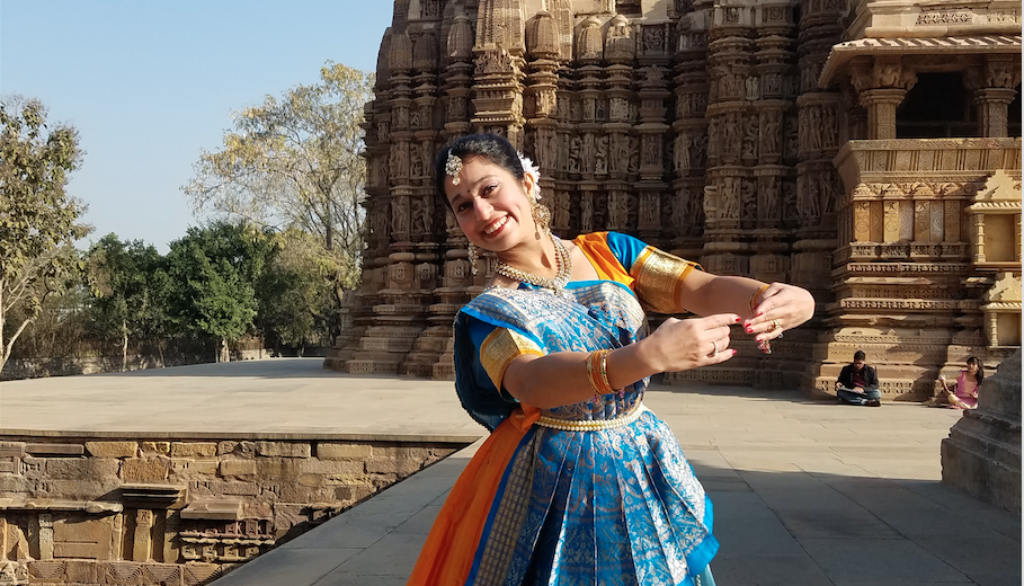 Spotlight on the Teacher: Sarika Haris
Photo Credit: Suchit Nanda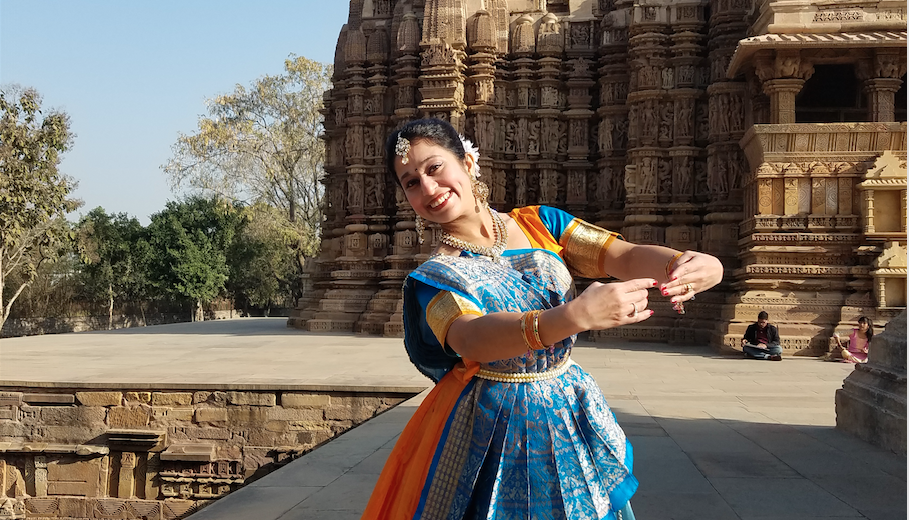 Katha Dance Theatre is a dance company and school run by some of the country's finest Kathak artists. Our instructors are passionate about Kathak tradition and have worked hard to reach their level of expertise, practicing daily in order to develop their skills. But apart from regular practice, what does it take to make a dancer? In our dancers' experience, learning from inspiring teachers plays a huge role in helping artists achieve their professional goals.
In our series Spotlight on the Teacher, we're checking in with our talented dance teachers – learning about their origins, the development of their teaching style, their goals for their students, and more – in order to better understand their individual approaches to teaching, dancing, and practicing their art. This month, our spotlight shines on KDT instructor and company dancer Ms. Sarika Haris.
What is your dance background, both in terms of your training and your professional experience?
I began my dance journey in India where I studied Bharatanatyam, the South Indian classical dance style, for several years. While I was there, I performed in the Bhartanatyam dance ensembles Bhasmasur Mohini and Dashavatar. My mom recognized that I could dance at a very young age and decided that it might be a good idea to get me some training, and my dad was very supportive.
Fast forwarding a few years: when I came to the United States to pursue my PhD, I saw Rita Mustaphi's company perform at the Indian Student Association's Diwali show at University of Minnesota. It was love at first sight! I loved watching Kathak and was inspired to challenge myself to learn something new and different from what I had learned in India. That's when I joined Katha Dance Theatre as a student in 1999. Right away, Rita took me under her wing and there was no turning back. Her compassion, humility, guidance and support have been instrumental to not only who I am as a dancer but also a huge influence on who I am as a person.
In 2002, I played the lead role in KDT's production of Chandalika, The Untouchable. Over the years, I have performed in several KDT productions locally and nationally such as The Hungry Stones, Ritu – The Seasons, Sufiana – the Sufi Ecstasy, Pourush – The Masculine, Rubaiyat – Life in a Day, In Retrospect, Beauty and the Beast, Soul to Sole, Karna – The Abandoned Hero and many others. Over the years, I have continued my learning under the tutelage of Ms. Rita Mustaphi and have taken several workshops and master classes from Padma Vibhushan winner Pandit Birju Maharaj and Ms. Saswati Sen. In 2012, I had the honor and privilege of performing in India's prestigious Khajuraho Dance Festival in a fantastic KDT production Karna – The Abandoned hero. I have been a KDT instructor since 2017.
When and why did you begin teaching?
Early on, I was a teaching assistant and helped Rita on and off for a couple of years. I then took a break from Kathak when I had my kids. Once I came back from my maternity leave, I resumed as a company dancer and then eventually started teaching in 2017. I used to watch Rita and visiting artists teach over the years and always thought I would like to teach someday. I wanted to teach so I could give back to the community as well as to the dance company. I am glad that Rita had confidence in me and guided me to teach. Teaching kids has been a very fulfilling and satisfying experience. I believe teaching has made me more patient and from a dance perspective, made me analyze the dance movements and break them into simple pieces that kids can easily learn.
Who and/or what have been your biggest inspirations as a teacher?
My biggest inspirations are my Guru, Rita Mustaphi, and my mom. Rita's patience, compassion, empathy and willingness to share everything she knows have truly been motivational for me. My mom's patience with the kids as an academic teacher has had a huge influence on me as well. I would be remiss if I didn't mention Pt. Birju Maharaj and Ms. Saswati Sen. Pt. Birju Maharaj has a unique style of teaching and is very humbling for us all. He connects every dance movement to things in nature and provides analogies to actions we do every day, making them very simple for us to learn and follow. In addition, I have also learned a lot from my fellow teachers such as Mukta Sathe, Monica Singh, Anurag Sharma and Rupa Nair. Honestly, I am inspired by the kids I teach as well! They make me a better teacher and help me grow with their honest remarks!
How would you describe your teaching style?
I would like to describe myself as someone who is compassionate but also strict. I expect a lot from my kids and want them to learn and have fun at the same time. I am always trying to push them to do their best, so there are times when I am strict. But I also incorporate games so I can keep dance fun and engaging for the kids I teach. Like I mentioned before, the kids have taught me to be patient and become a better teacher, but I know I have a lot to learn as a teacher and am looking forward to it!
What do you hope students take away from your class?
My goal in my class is to be a true ambassador for Kathak. I would like each of my students to be true ambassadors of Kathak as well. I hope to fuel their passion for dance as they continue to learn Kathak. In addition, I want them to have fun and be motivated to keep dancing.
"The satisfaction I receive after I teach is the greatest reward. I feel like I have a chance to give back and make a small difference to the dance community."
Do you have any key phrases or expressions you often use in your classes?
Yes, I do. Most commonly: "How do I know you are ready? Can I see Utpatti please?" Others include "Feet in a V – piece of a chocolate pie!", "I love ice cream", "I hate homework!" I use some of these phrases to help kids remember the basic movements and stances in Kathak and ensure that their foundation is strong.
What do you love most about teaching? What's the hardest part of your job?
The satisfaction I receive after I teach is the greatest reward. I feel like I have a chance to give back and make a small difference to the dance community. In addition, I feel like teaching has made me a better dancer, since I must be detailed and analyze every movement to be able to teach. The hardest part of my job is to keep the kids engaged and not bored. Learning something new and difficult can be challenging and helping kids get over the challenge is what I look forward to. To hear "I got it!" from the kids in my class is super satisfying. To see the kids accomplish what they thought was difficult and challenging is very exciting.
What advice do you have for other dance teachers who wish to make an impression on their students?
I am incredibly blessed to be part of the KDT organization with Rita as the best teacher anyone could ask for. In addition, I have personally learned a lot from my fellow teachers. Based on what I have observed and now experienced as a teacher, my only advice would be to be patient, encouraging and honest. Remember that teaching helps unlock new potential!