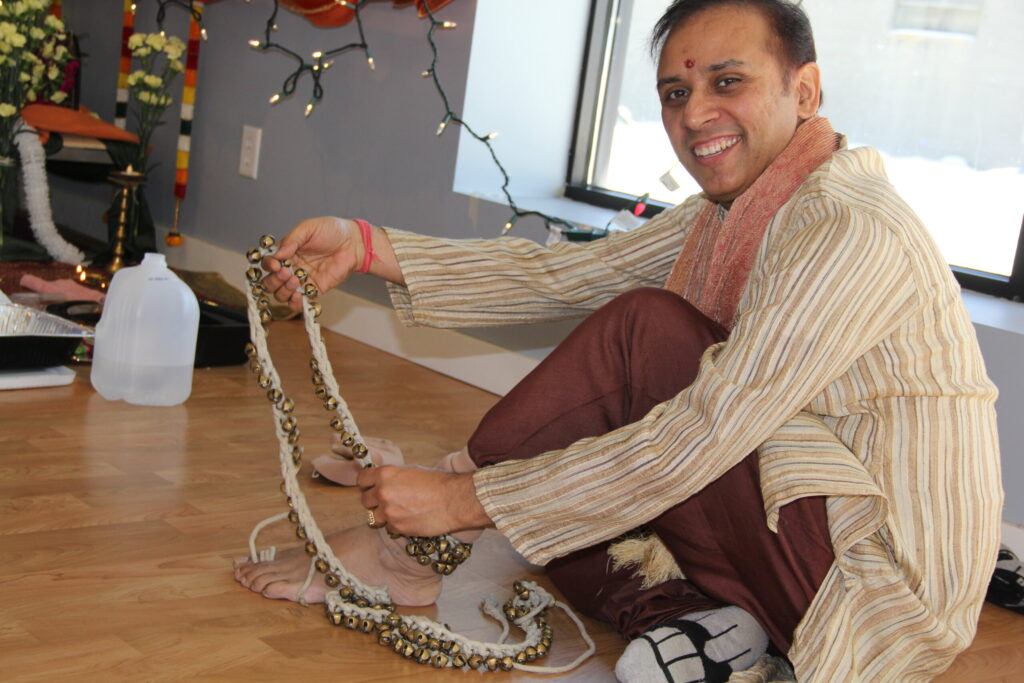 Spotlight on the Teacher: Anurag Sharma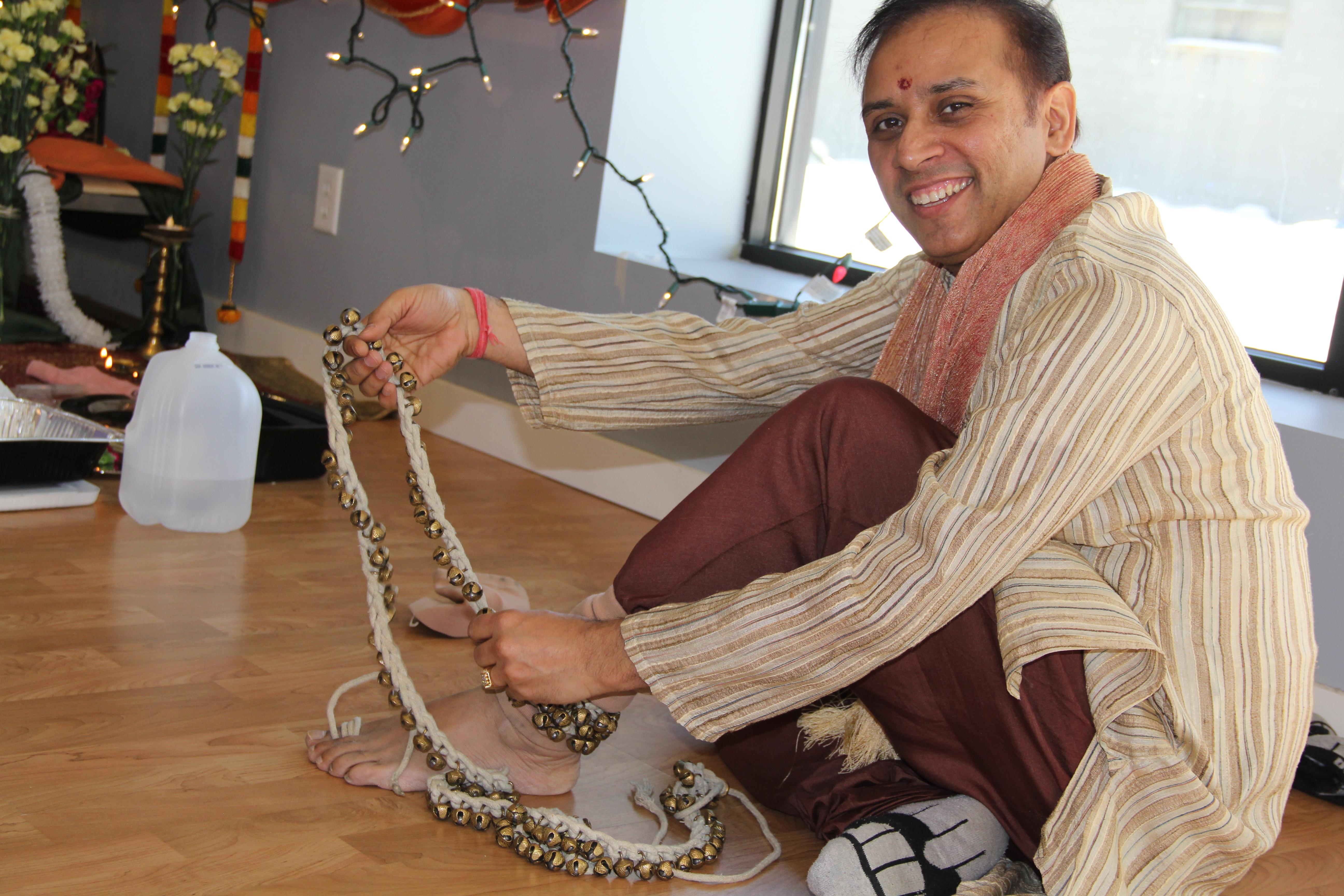 Katha Dance Theatre is a dance company and school run by some of the country's finest Kathak artists. Our instructors are passionate about Kathak tradition and have worked hard to reach their level of expertise, practicing daily in order to develop their skills. But apart from regular practice, what does it take to make a dancer? In our dancers' experience, learning from inspiring teachers plays a huge role in helping artists achieve their professional goals.
In our series Spotlight on the Teacher, we're checking in with our talented dance teachers – learning about their origins, the development of their teaching style, their goals for their students, and more – in order to better understand their individual approaches to teaching, dancing, and practicing their art. This month, our spotlight shines on KDT Board secretary, parent, instructor and company dancer Mr. Anurag Sharma.
What is your dance background, both in terms of your training and your professional experience?
My passion for dance inspired me to begin learning Kathak from Rita Mustaphi in 2004. It was Rita's compassion towards Kathak and her welcoming demeanor that helped me make my decision to start learning Kathak. The rest is history! After ten years of rigorous training under Rita Mustaphi, I had the opportunity of a lifetime in both 2014 and 2016 when I completed a total of six months of extensive training directly under the living legend and Padma Vibhushan-awardee Pandit Birju Maharaj in New Delhi, India. I have attended Chicago's International Kathak Festival in both 2004 and 2009. Joining conferences and workshops conducted by the Kathak exponents from all over the world was a great learning experience. Also, I have been performing extensively with the Katha Dance Theatre's home productions locally, nationally and internationally since 2005.
In July 2016, I had the opportunity to tour and perform in a Kathak Ballet – Romeo & Juliet – with Pandit Birju Maharaj's Dance Company in Wisconsin, Chicago and New York's Madison Square Garden! In February 2017, I performed as a lead dancer in a dance opera titled Karna – The Abandoned Hero, one of Rita Mustaphi's many creative works, at the prestigious Khajuraho Dance Festival in India. It was an exhilarating experience to perform at such a famous and historical monument from the 12th century.
There is so much to learn and achieve, but I have been fortunate to work with some prominent organizations & Gurus in my artistic experience. I performed as a guest artist in Anila Sinha Foundation productions of Kumar Sambhav & Rajnartaki with Kiran Chauhan in Chicago (2007 & 2009); North American Bengali Conference (NABC) in Toronto, Canada (2013) with KDT; with Rita Mustaphi at the India Dance Festival organized by Indian Classical Music Circle (ICMC) in Dallas, Texas (2013); and with Saveeta Sharma of Upasna Dance Company at Pandit Birju Maharaj's 80th birthday tribute concert Aashirwad in Ottawa, Canada (2017). In October 2017, with the blessings of my Gurus Rita Mustaphi and Pandit Birju Maharaj, I performed a solo Kathak recital – Rangmanch Pravesh – in Minneapolis.
All these opportunities would have not been possible for me without Rita Mustaphi's constant guidance, support and encouragement.
When and why did you begin teaching?
I assisted Rita Mustaphi and completed my teacher training for one year before starting to teach for KDT in 2009. I love sharing the craft that I have acquired by observing my gurus. My ultimate goal in teaching Kathak dance is to cultivate inner peace, a positive attitude and composure through expressions. I feel blessed to practice and share various aspects of a 'Kathakaar' – a storyteller – by expressional and rhythmic Kathak compositions with my students.
Who and/or what have been your biggest inspirations as a teacher?
Indubitably, Rita Mustaphi inspires me, as she was my first Kathak Guru/teacher. Not only has she mastered the dance style, but she is also very patient with students at all levels. My students inspire and teach me something new every week. Their unmatched energy gives me the utmost joy. My other teaching inspirations come from the Kathak Maestro himself, Pandit Birju Maharaj, and Vidushi Saswati Sen. I had the good fortune to observe and sometimes assist Pandit Birju Maharaj and Saswati Sen in their classes and workshops during my Kathak training in India. Pandit Birju Maharaj's perseverance, sincerity, passion for teaching, and incorporation of daily life examples into his teaching are admirable. I believe teaching is a continuous learning process for a teacher.
How would you describe your teaching style?
I would say my teaching style is a mix of being both warm and demanding. My love and passion for dance reflect in my teaching style. I provide caring and emotional support but also have high expectations from my students. Having said that, I make sure my students are having fun in the classroom by finding the right balance between their artistic development and enjoyment. I try to be a positive role model so my students not only learn this beautiful form of Indian classical dance but also use discipline and practice in their lifestyles.
What do you hope your students take away from your class?
I hope when my students leave the classroom they feel energized and eager to come back to the next class. I also hope every dance practice session is a stress reliever for my students after their busy day at school or at work. Finally, my hope is that they take away a joy and happiness from dance that will ultimately provide a more focused approach in whatever they choose to do.
"I make sure my students are having fun in the classroom by finding the right balance between their artistic development and enjoyment."
Do you have any key phrases or expressions you often use in your classes?
I use many phrases, for example: "follow your hands," "use a lot of wrist for all hand movements," "relax and smile," "understand the meaning of each word for the expressional dances so you can emote and perform them properly," and "you have to enjoy the dance, only then audience will enjoy your performance."
What do you love most about teaching? What's the hardest part of your job?
Teaching has been a sacred and elating experience for me. Thanks to Rita Mustaphi for trusting me all these years and providing me the opportunity to share my learnings with others. By teaching, I learn and by learning, I get inspired to teach more. I would say the hardest part of my job is to learn and try to understand different students' perspectives. It is definitely hard to match kids' exuberant energy!
What advice do you have for other dance teachers who wish to make an impression on their students?
Set clear goals and expectations with your students.
Photo: Anjana Nair