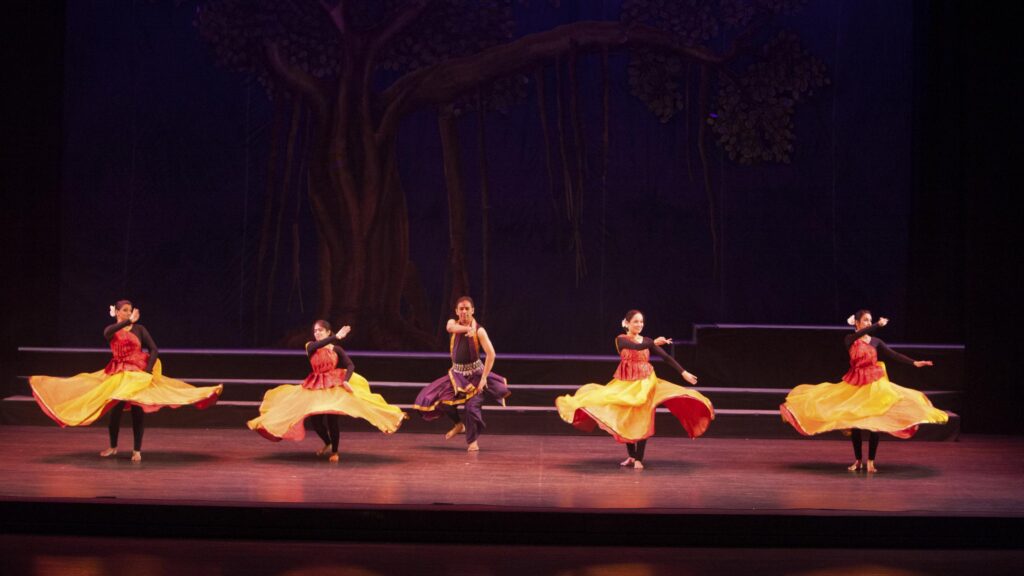 Pourush – The Masculine
This Kathak-Chhau fusion tells the story of a warrior princess who struggles to embrace her feminine and masculine natures. In examining this duality, Pourush challenges audiences to reflect on their own identities. New Delhi-based choreographer Maitreyee Pahari collaborated with Artistic Director Rita Mustaphi to craft a beautiful fusion of Chhau and Kathak choreography. Featuring Chhau masters Rakesh and Rajesh Sai Babu. It was originally performed at the O'Shaughnessy at St. Catherine's University on October 23 – 24, 2015.
About the dance forms: Kathak dance is the classical dance tradition of Northern India. This elegant, spontaneous dance has its origins in the narrative tradition of the village minstrel. It combines lyrical grace, subtle expressions and meaningful hand gestures with physically demanding pirouettes and intricate footwork. Chhau dance is a tribal dance from East India, fusing martial arts with controlled, graceful interpretations of day-to-day chores and activities of rural life. It too features facial expressions and precise footwork, as well as more acrobatic elements that distinguish it from Kathak.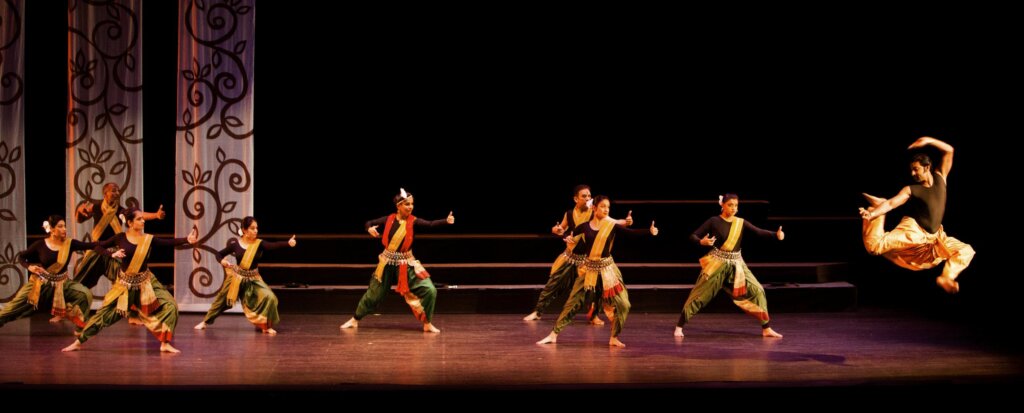 From the program
Folklore has passed down women's stories throughout the ages. Often these fictitious accounts cast women in a variety of roles, from wise grandmother to loyal sister or faithful wife. These archetypes often fulfill a one-dimensional role in the story, as women become a symbol of faith, loyalty, and dependency. Opportunities to lead and commit brave acts aren't part of their role in the story. Until now.
Artistic Director's Note
This piece started from personal feelings and respect for each other's work, between New Delhi-based choreographer Maitreyee Pahari, who specializes in the Chhau style of Indian dance, and myself, using Kathak dance in my choreography, along with our 20 years of priceless friendship! For a few years, I was toying with the idea to craft an exquisite fusion of fierce Chhau and mesmerizing Kathak choreography to tell the story. And three years ago, a chance meeting with Ms. Pahari in New Delhi, along with seeing her choreography, I was inspired and convinced to work with her and move forward. After numerous conversations with Ms. Pahari through countless phone calls, emails, rehearsals using Google Hangout, along with four weeks of live rehearsal with the international artists, we are here to premiere Pourush – The Masculine!
What a rich and exciting journey it is with tremendous growth for the team. It has been a gift to work with world-class artists Maitreyee Pahari, Rakesh and Rajesh Sai Babu. What vibrant and enthusiastic artists they are! Katha Dance Theatre's company dancers and interns worked countless hours on this project. In continuation of our relationship with IB dance class at Highland Park High School in St. Paul, we moved one step forward to include them in our show. Now the story lies in the dancers' hands. We appreciate their hard work and dedication to the process. We hope that the audience recognizes the beauty of this work and the journey we took to build community and connections! It's been KDT's privilege to create work and perform for our local audience in Twin Cities. We thank you for joining us in this concert.
~ Rita Mustaphi
Choreographer's Note
I would like to thank Ms. Rita Mustaphi and Katha Dance Theatre for giving me the opportunity to work in this production. Perhaps, for the first time in Minneapolis, dance connoisseurs will get an opportunity to see this unique blend of two divergent and yet complementary, dance styles.
~ Ms. Maitreyee Pahari
Credits
Artistic Personnel
Concept and Choreography: Rita Mustaphi and Maitreyee Pahari (Delhi, India)
Scenic Design: Anup Giri (Kolkata, India)
Costume and Set Design Maitreyee Pahari
Lighting Design Kevin Jones
Composers Sharat Chandra Srivastava (Delhi, India) and Rajeev Chakraborty (Kolkata, India)
Musicians (Delhi and Kolkata, India) Vidhi Sharma, Ujjal Nagar, Debashis Sarkar and Kader Khan (vocals); Gayan Singh and Gopal Mishra (tabla); Rajeev Chakraborty and Mukesh Sharma (sarod); Reena Srivastava (sitar); Sharat Chandra Srivastava (violin); Dhiraj Pandey (flute); Sontosh Kumar and Parna Sen (dance syllabus vocalization); and Sid (synthesizer)
Audio Production and Mixing Sound Force (New Delhi, India) and Prasad Studio (Kolkata, India)
Performers
Narrator: Rita Mustaphi
Chitrangada – Kurupa (a woman devoid of feminine charms): Rupa Nair
Chitrangada – Surupa (the beautiful, seductive woman): Nivedita Sahni
Prince Arjun: Rakesh Sai Babu
Guru, Dacoit: Rajesh Sai Babu
Madan, the God of Love: Anurag Sharma
Chitrangada's Friends: Sarika Haris, Anurag Sharma, Priya Jain, Monica Singh, Mukta Sathe, Derek Phillips; Maithili Shinde, Sharika KK, Aanchal Sahni, Anisha Sharma (interns)
Villagers: Highland Park High School Students: Paige Bosler, Emma Celebrezze, Dean Ryan-Simmons, Sydney Lissen, Ricardo Martinez, Martha Miller, Skyler Nelson, Maureen Nystrom, Nancy Rojas-Arellano, Rabiya Seghal-LaRoque, Kelly Shanahan, Shannon Thao, and Carli Weber
Crew
Stage Manager: Mark LaCourse
Rehearsal Director: Anurag Sharma
Rehearsal Assistant: Asha Sharma
Stage Technician: Lisa Rebeck
ASL Interpreters: Alan Farnham, Rosalinda Estrada-Alvarez
Panel Discussion Moderator: Derek Phillips
Videographers: Jim Peitzman and Kalyan Mustaphi
Photographer: Erik Saulitis
Graphic Design: Regina Hanson
Acknowledgement
This activity is made possible by the voters of Minnesota through grants from the Minnesota State Arts Board and the Metropolitan Regional Arts Council, thanks to a legislative appropriation from the arts and cultural heritage fund; by an award from the National Endowment for the Arts; by the St. Paul Cultural STAR Fund; by the McKnight Foundation; by Target; and by the generosity of Katha Dance Theatre's private donors. Thank you.