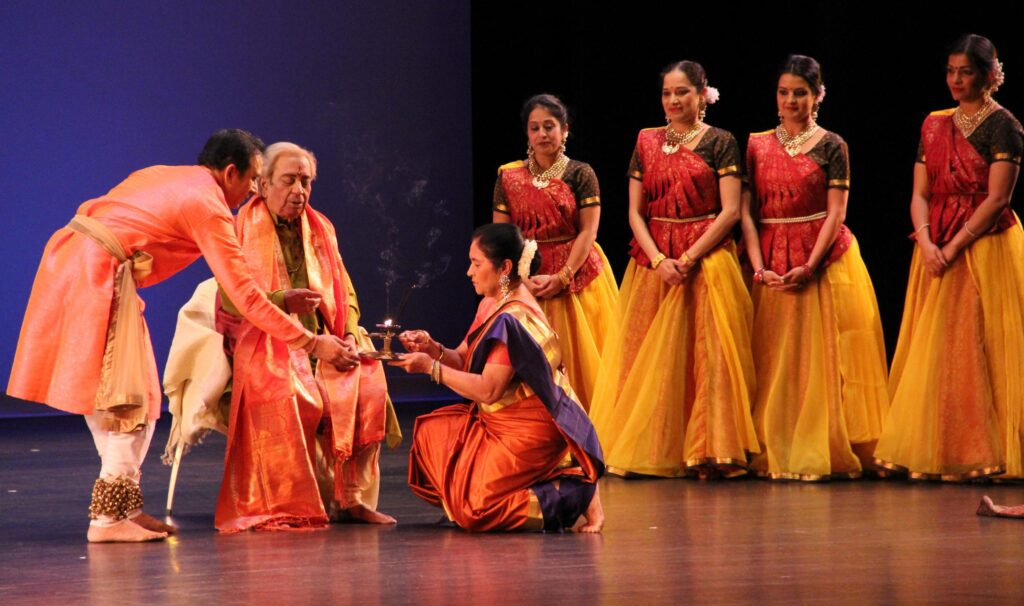 Parampara – The Tradition
Parampara: The Tradition was originally performed at the O'Shaughnessy Auditorium on June 10, 2018. It featured what would be the final in-person performance (in Minnesota) of KDT Artistic Director Rita Mustaphi's guru, Pandit Birju Maharaj. It also featured live tabla by renowned musician Ustad Zakir Hussain, in addition to other acclaimed India-based performers. It was a one-night-only showcase of the world's best Indian classical dance and music.
Artistic Director's Note
On behalf of Katha Dance Theatre, I am pleased to welcome you to Parampara-THE TRADITION for the presentation of Concert of the Legends. I am deeply grateful to the maestros Pandit Birju Maharaj, my Guru in Kathak dance, and Ustad Zakir Hussain in tabla, the matchless combination and the lovable pairing by Indian dance and music connoisseurs, for sharing their arts today! You may have noticed that this program has delightful elements of "The Family. This was a conscious decision on my part. I wanted to present the distinct identity: the tradition of 'Guru – Shishya Parampara' (The Discipleship thus creating an extended family) with an emphasis on this great art-form Kathak dance. I also wanted to celebrate the achievements of our Guru Pandit Birju Maharaj along with his family, including Minnesota's Katha Dance Theatre with its contemporary aesthetics and emerging trends in storytelling and dance.
Enjoy, be entranced by the nazakat (grace) of Pandit Birju Maharaj's bhaav (movement and ex- pressions) as he sways to the beats created by Ustad Zakir Hussain's nimble fingers.
-Rita Mustaphi
A Few Words by Pandit Birju Maharaj
I am very happy that I am here in the Twin Cities for a residency and that my disciple Rita is arranging this for many years and making it possible for me and my Company to tour North America by her tireless efforts. I feel that Minneapolis is my home away from home! Like all the time, this time also my foremost disciple Saswati is here and I especially feel good that I will be presenting my granddaughters, grandson, son and daughter who all will perform with me. I wish my best wishes to you all, especially to you Rita because you envision such a beautiful program. May you all be happy. Thank you.
-Birju Maharaj
A Few Words by Ustad Zakif Hussain
Happily, I have had a nearly lifelong artistic relationship with the legendary Pandit Birju Maharaj since I have been accompanying him from my early teens. Maharajji is truly an iconic presence in the annals of India's culture. Not only a multi-faceted artist, he is a devoted guru who, while main- taining his family's legacy, the Lucknow gharana, has been at the forefront of innovation in the world of Indian dance. It has been and will always be a blessing to share the stage with him. Thanks to Rita Mustaphi and Katha Dance Theatre for all the work that they have done, past, present and future, especially in bringing Maharajji to the States on so many different occasions…
– Zakir Hussain
Crew
Artistic Personnel
Kathak legend: Pandit Birju Maharaj
Music legend: Ustad Zakir Hussain
Dancers: Vidushi Saswati Sen, Guru Deepak Maharaj, Guru Mamta Maharaj, Ragini Maharaj, Tribhuwan Maharaj, Shinjini Kulkarni
Sitar: Chandrachur Bhattacharjee
Tabla: Utpal Ghoshal
Vocals: Anirban Bhattacharyya
KDT Company: Rita Mustaphi, Anurag Sharma, Mukta Sathe, Nivedita Sahni, Sarika Haris, Rupa Nair

Crew
Light design: Kevin Jones
Sound engineer: Stephen Bennett
Videography: Kalyan Mustaphi
Acknowledgement
This activity is made possible by the voters of Minnesota through grants from the Minnesota State Arts
Board and the Metropolitan Regional Arts Council; thanks to a legislative appropriation from the arts
and cultural heritage fund; by the St. Paul Cultural STAR fund, by the Mcknight Foundation; by Target; by the Dr. Dash Foundation and by the generosity of Katha Dance Theatre's private donors.