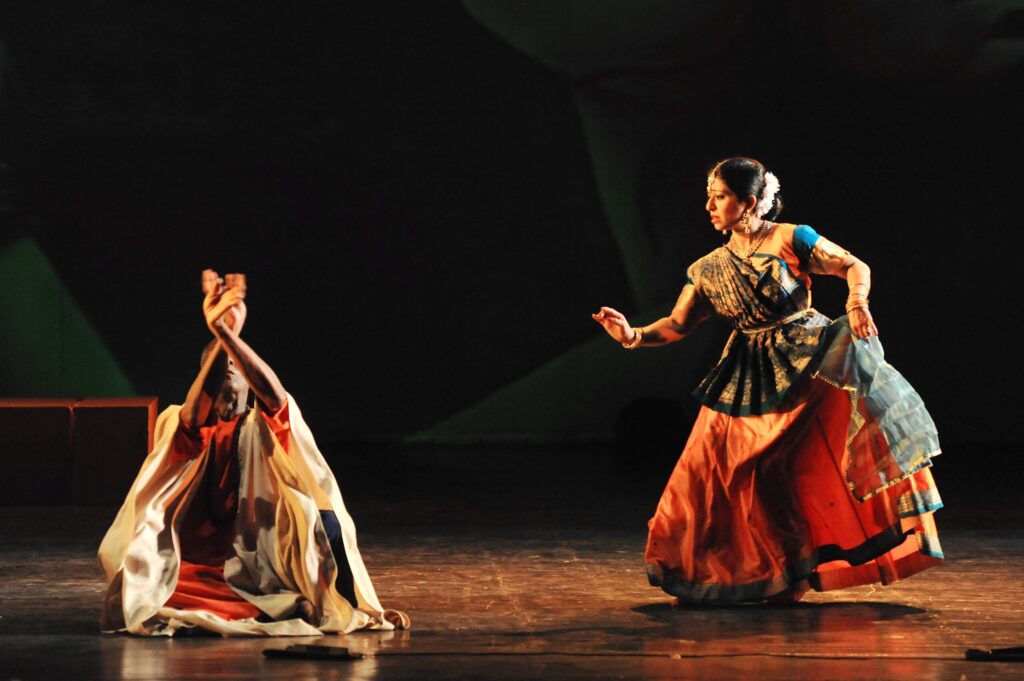 Karna – The Abandoned Hero
This groundbreaking production was the first-ever African American and Asian Indian dance opera. Pairing an original score by internationally known musician/composer J.D. Steele with choreography by Rita Mustaphi, Karna was inspired by the first text depicting Kathak dance in ancient India.
It reworks an epic story, playing with tradition and modernity in depicting the conflicting relationships between a queen, her secret son, a strong-willed princess, and the God who made him a legend. Karna was originally performed at the O'Shaugnessy at St. Catherine's University in 2013. It was later performed at the Khajuraho Classical Dance Festival on November 1 – 2, 2017.
Director's Note
"I believe tradition and innovation are compatible partners. In my 2013 production Karna – the Abandoned Hero, I was determined to push gently yet persistently at the boundaries of this ancient Indian dance form Kathak by collaborating with internationally renowned composer J.D. Steele to produce and premiere the world's first African American & Asian Indian dance opera, Karna – The Abandoned Hero.
Karna is an one-of-a-kind cultural arts production, as it brings together a unique confluence of American and Asian Indian cultures to collaborate in the creation of an original dance opera. There has never been a project like Karna in the history of Asian Indian dance or Gospel music and the aforementioned artists have been elated to break intellectual ground while enhancing community vitality and empowerment. This vivid, forward-thinking production will strengthen cultural awareness and draw people from diverse backgrounds to experience the rewards of the cultural arts. Furthermore, the focus of Karna was to offer quality representation of two traditional arts and learn how the artistic process and quality of artistic product influence and enrich one's own life experiences. This fertile ground of cultural and artistic space will help the greater public discover and develop their knowledge of different races and cultural traditions.
Kathak shares unique commonalities to the storytelling aspects of Gospel music, and Karna provides insight and cultural sensibilities to all of the audiences involved."
-Rita Mustaphi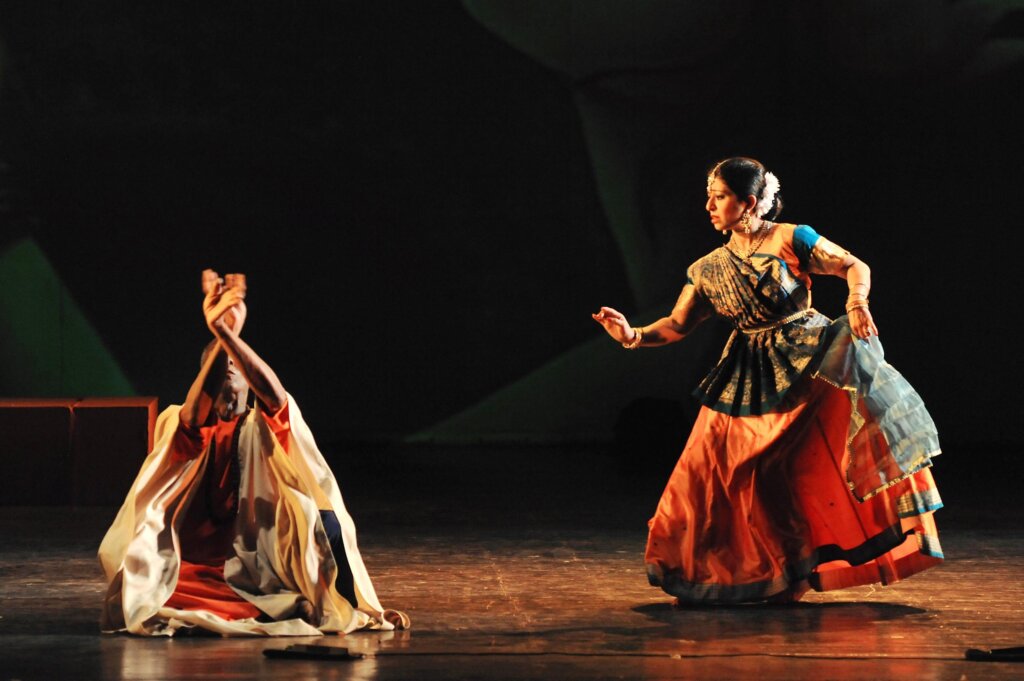 In 2017, Katha Dance Theatre completed a tour of India, where they were featured at the prestigious Khajuraho Classical Dance Festival, located in the Chhatarpur district of Madhya Pradesh, India.
This weeklong festival, held annually at the beautiful Khajuraho temples, features performances by worldwide exponents of various Indian classical dance styles such as Kathak, Bharathanatyam, Odissi, Kuchipudi, Manipuri and Kathakali.
KDT performed onstage at the event on February 23rd. Their performance of Karna – The Abandoned Hero featured the first Kathak dance and Gospel music fusion piece ever performed in India. KDT company dancers were accompanied by local renowned musicians, including J.D. Steele (who composed the original Gospel-inflected music for the show), Billy Steele, and Gretchen Baglyos.
In addition to their appearance at Khajuraho, KDT's tour of India featured performances at the following venues:
February 25th – Kalashram's Vasantotsava celebration at Kamani Auditorium, New Delhi
February 27th – Indian Habitat Center, Joseph Stein Auditorium, New Delhi
Credits
Artistic Personnel
Choreography, Script and Direction: Rita Mustaphi
Music Composition: J.D. Steele
Performers
Villagers: Prachee Palekar, Priya Jain, Apekshya Panda, Nivedita Sahni, Rtusha Kulkarni and Mukta Sathe
Karna: Anurag Sharma
Queen Kunti: Rita Mustaphi
Kunti as a Young Maiden: Monica Singh
Friends of Young Kunti: Rtusha Kulkarni & Priya Jain
Sage Durbasha: Derek Phillips
Princess Draupadi: Asha Sharma
Prince Dush-sha-shan: Donald LaCourse
Krishna: Derek Phillips
Vocals: J.D. Steele
Keyboard: Billy Steele
Additional vocals: Gretchen Baglyos
Crew
Paintings: Deb Sree
Lighting Design: Mike Grogan
Set Design & Construction: Penumbra Theatre Scenic Studio
Costume Design: Luna Poddar
House Manager: Greg Morrissey
Stage Manager: Mark LaCourse
Rehearsal Mistress: Sarika Haris
ASL Interpreter: Justin Woodington
Company Manager: Owen Henry
Sound Engineer: Stephen Bennett
House Technician: Mary Beth Zorn
Stage Crew: Chadwick Cook
Acknowledgement
This project has been made possible, in part, by the voters of Minnesota through grants from the Minnesota State Arts Board and the Metropolitan Regional Arts Council, thanks to a legislative appropriation from the Arts and Cultural Heritage Fund, the American Composers Forum's Live Music for Dance Minnesota program (in partnership with the American Music Center, with funds provided by the McKnight Foundation and the Andrew W. Mellon Foundation), the St. Paul Cultural STAR program, the Nash Foundation, The McKnight Foundation and generous support from members of Katha Dance Theatre's Donors.