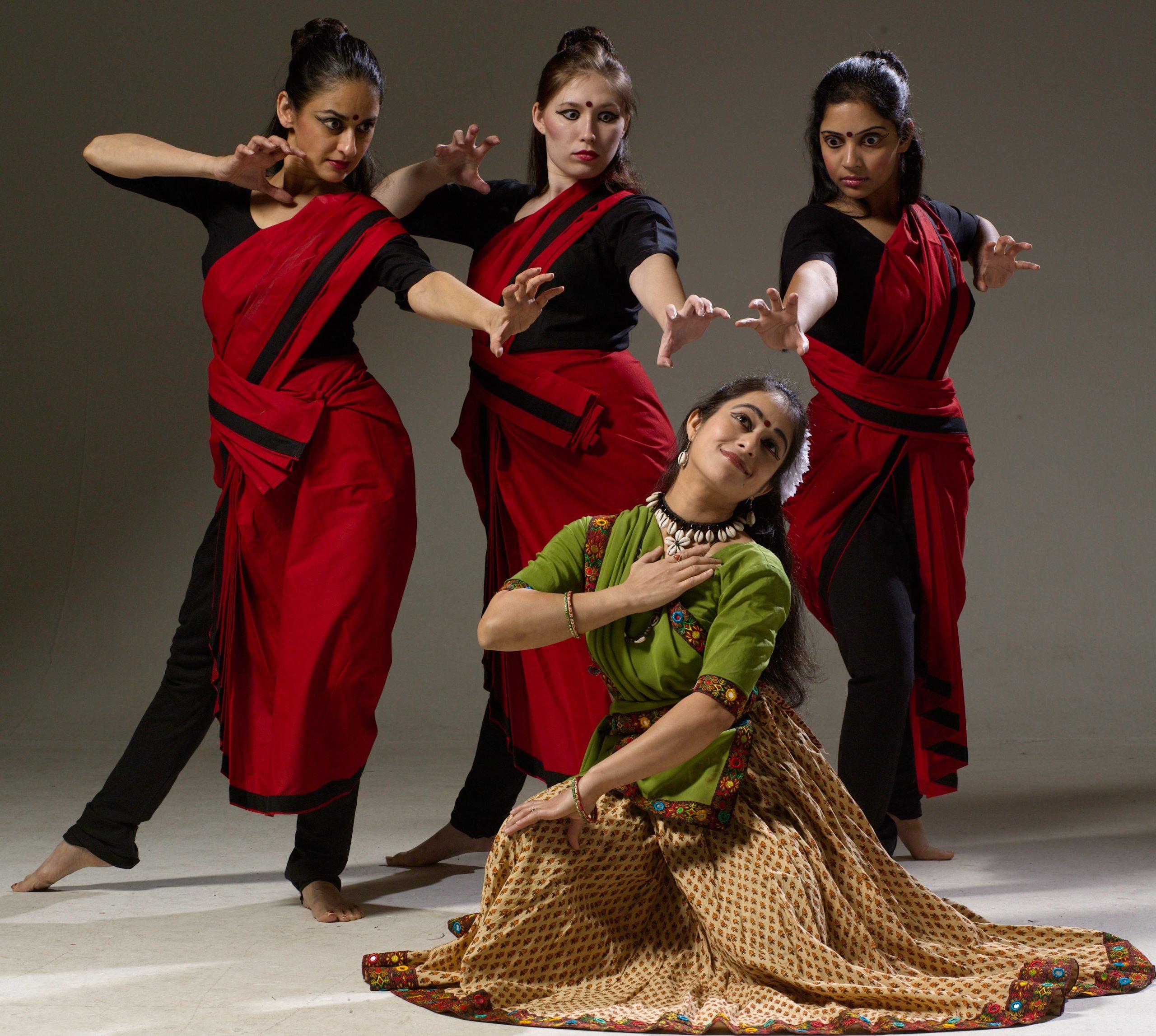 Chandalika – The Untouchable Maiden
Chandalika is an examination of the marginalized women, "untouchables," idealists and dreamers found throughout history in any society. It is a story of discrimination, a story of intense spiritual conflict, a story of self-confidence and self-respect, a story of love and salvation, and a story of selfishness and self- realization.
Based on a century-old original story from Buddhist literature, the drama unveils the portrait of a young woman, Prakriti, who is condemned by birth as an outcast, only to discover her separate and independent identity as a woman through the kind eyes of a Buddhist monk. The young woman's mother, Maya, is a powerful and proud woman, empowered by her knowledge of witchcraft. To Maya, her daughter's idealism and rebellion are romantic dreams, deeply enmeshed in her awakening sexuality and her infatuation for a Buddhist monk, Ananda. Indeed, Prakriti confuses her romantic longings with her search for recognition and acceptance in society.
Chandalika originally premiered at the Southern Theatre in 2002 and was revived on May 5 – 8, 2011 at the Ritz Theater.
Artistic Director's Note (2011):
Welcome to Katha Dance Theatre's presentation of Tagore Festival, in celebration of Rabindranath Tagore on the 150th anniversary of his birth (May 7), Katha Dance Theatre (KDT) is partnering with three local organizations to present Tagore Festival this spring. Today in partnership with the Ritz Theater, KDT presents a double bill: Rabindranath Tagore – A Timeless Mind and Chandalika – the Untouchable Maiden.
Tagore's contribution in creating India's first 'modern dance' known as Rabindra Nritya is widely recognized. Inspired by the classical dance styles of India, mainly Manipuri, Kathakali and Kathak, and local folk dancing, he introduced dance as part of the curriculum at Viswa Bharati University that he founded at Shantiniketan in West Bengal. Believing in Tagore's idealism that everyone needs an opportunity to dance, here I have initiated seven new dancers in this engagement including Katha Dance apprentices and students. My objective is to open the doors for exploration of all that KDT has to offer culturally and artistically. Hope this becomes a learning tool as we celebrate the achievements of these dancers. With this celebration, I strongly hope that you are able to experience the depth of the work of Rabindranath Tagore as this performance brings to the Twin Cities Tagore's universal message of love, harmony and beauty among all peoples. Thank you for your support of Katha Dance Theatre. Enjoy the show.
Credits
Fort the 2011 production
Artistic Personnel
Rita Mustaphi and Asha Sharma
Rabindranath Tagore
Rita Mustaphi
Rita Mustaphi and Asha Sharma
Music (recorded in Kolkata, India)
Debashis Sarkar
Rajashree Bhattyacharjya
Bhaswati Mukherjee
Robin Mukherjee
Tarit Bhattyacharjya
Dakshini Music School
Voiceover actors
Pooja Khanna
Rita Mustaphi
Derek Phillips
Bonnie Jean MacKay and Pooja Khanna
Donald LaCourse
Performing artists
Sarika Haris
Rita Mustaphi
Derek Phillips
Reshma Mangra, Sonali Garg, Simmi Arora, Puneeta Arora, Mikylah MacKay and Nivedita Sahni
John Munger
Asha Sharma, Priya Jain, Vidya Rajaram, Sonali Garg and Nivedita Sahni
Reshma Mangra, Simmi Arora, Puneeta Arora and Mikylah MacKay
Asha Sharma, Priya Jain, Vidya Rajaram, Sonali Garg, Nivedita Sahni, Reshma Mangra and Puneeta Arora
Crew/Admin/Production Personnel
KDT Coordinator, Sound Operator, Additional Sound Design
Costume Design
Mike Grogan
Rich Wilson and Doug Livesay
Keegan Fraley
Erik Saulitis and Vidyotham Reddi
Jim Peitzman
Connie Shaver LLC
Acknowledgement
This activity is made possible, in part, by funds provided by the McKnight Foundation and Katha Dance Theatre's community connections. This event is co-sponsored by the Bengali Association of Minnesota and the India Association of Minnesota.