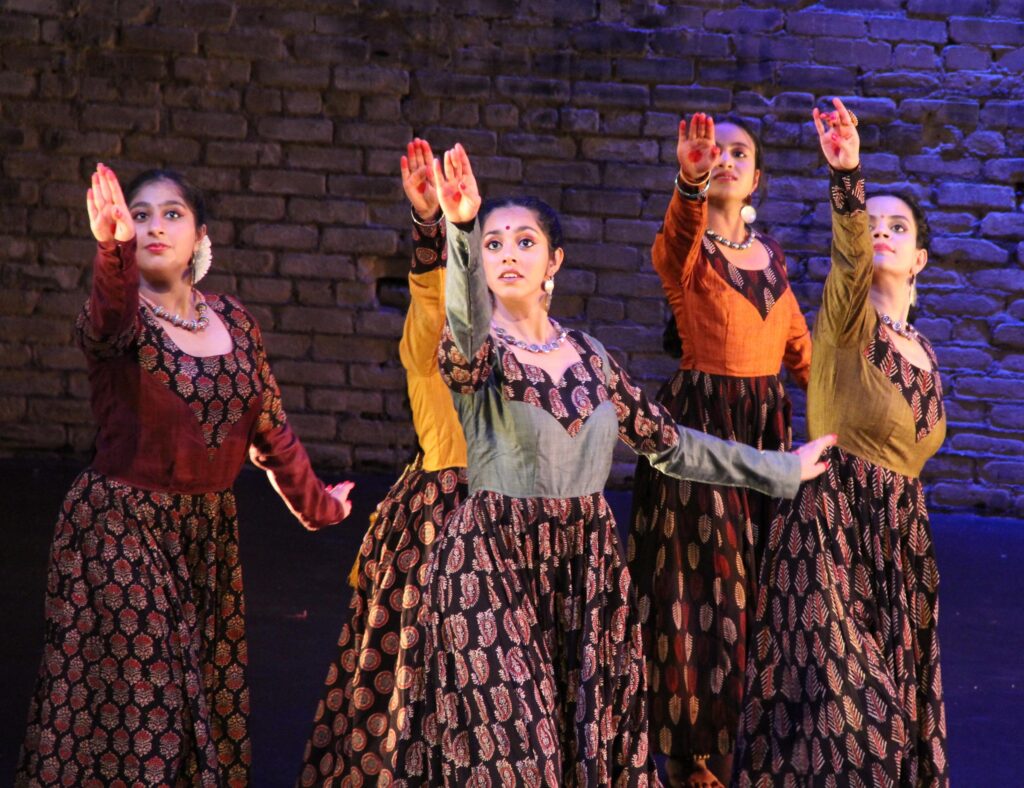 Black Candle
Based on the poetry by award-winning author and activist Chitra Banerjee Divakaruni, Black Candle represents the stories of South Asian women, celebrating their strength and tenacity in the face of societal oppression. The show is deeply human, rich with colors, sounds, and fragrances, and depicts universal experiences of resistance, pain, joy and triumph. Black Candle was originally performed (as Nritya Jyoti Dance Theatre) at Hamline University's Anne Simley Theater in 1997, later re-choreographed for a 2006 revival at the Ritz Theater in Minneapolis, and re-choreographed in 2022 and performed at the Southern Theater June 3 – 5.
From the program (2022)
Based on the award-winning poetry of Chitra Banerjee Divakaruni, Black Candle combines the elegant medium of Kathak dance with text and music to evoke female joy, love, pain and resilience. It pays tribute to the strength and tenacity shown by the women of Bangladesh, India, Nepal, and Pakistan in the face of oppression due to sexism, misogyny and repressive cultural norms. In telling their stories, which recount pivotal, life-altering moments, Black Candle emphasizes universal truths about love, loss and overcoming adversity.
A Note from the Choreographer
When I read Chitra Divakaruni's collection of poems 'Black Candle' which covers many of the challenges women continue to face today and are often ignored by western society, I felt moved and wanted to bring these tales back to life for the Twin Cities community. The poems examine a variety of intense topics. "Nargis," for example, poignantly illustrates a young Muslim woman adorned for her bridegroom but shrouded in a black burkha, "quenching her light." Another, "The Living Goddess Speaks," portrays a pre-pubescent Nepalese girl enshrined as a goddess but soon cast aside when she reaches womanhood. Hope you see the challenges, pain and suffering these women face and how they reshape these realities, find joy and ultimately survive with dignity!

– Rita Mustaphi
Credits
From the 2022 production
Artistic Personnel
Choreography & Direction: Rita Mustaphi
Poems and concept: Chitra Banerjee Divakaruni
Music Composition: Rajeeb Chakraborty
Dancers: Nivedita Sahni, Shilpi Chatterjee, Rimika Dhara, Ishani Nandan, Aaratrika Mondal, Rohini Chatwani, Ria Jadav, Ajay Patel, Bibhash Banerjee, Ayushmita Mondal, Sana Chatterjee and Rita Mustaphi
Crew
Lighting Design: Mike Grogan
Set and costume Design: Rita Mustaphi
Stage Manager: Mark LaCourse
Stagehands: Matt LaCourse, Ritam Dhara, Arijit Mondal
Video Documentation: Kalyan Mustaphi
Photography: Anjana Nair
Acknowledgement
This project is supported in part by the National Endowment for the Arts. To find out more about how National Endowment for the Arts grants impact individuals and communities, visit www.arts.gov. It is also supported by a grant from St. Paul's Cultural STAR program. This activity is made possible by the voters of Minnesota through a grant from the Minnesota State Arts Board, thanks to a legislative appropriation from the arts and cultural heritage fund. Shaamya – Of Equality was supported by New Music USA. To follow the project as it unfolds, visit my project page. It is also made possible by funding from the RBC foundation, the McKnight Foundation, the Target Foundation, the A.B. Walker Foundation, and by the generosity of KDT's individual donors.